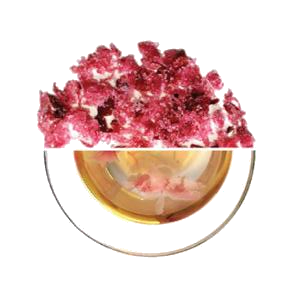 Sakura Tea (Salted)
Sakura Tea (Salted)
Regular price

Sale price

$30.00
This tea is smooth, light bodied with a mildly salty, floral aftertaste with undertones of plum. The beautiful pink color is coupled with the flowery aroma, made by preserving cherry blossoms in salt and plum vinegar. This tea is often used for special occasions and celebrations in Japan.
For instructions on how to brew, please read this page.
100g
Japanese: 古式製法桜茶(桜つぼみの塩漬)

Taste: Balanced

Body: Medium

Texture: Round

Length: Long

Harvest: Spring

Tea Cultivar: Yabukita

Origin: Wazuka

Cultivation: Unshaded

Processing: Lightly Steamed, Rolled, Dried
Couldn't load pickup availability
Bought for ochazuke, was not disappointed
As soon as I saw the listing for this tea, I knew I had to try making ochazuke (Japanese "tea on rice") with it. I love a quick bowl of white rice with red shiso furikake and a bright red umeboshi sitting on top, and when I saw that the sakura petals were preserved with plum vinegar I was obsessed with the idea of combining them. The high price might give you pause but this tea is not meant for daily drinking, it's something to pull out once in a while and really savor. With that in mind, it's a totally unique experience. The sakura petals flutter in the hot water as they steep; the liquor has a beautiful light pink color; the flavor subtle and unique. The salty water that is produced by the pre-steep soak is a perfect fit for ochazuke as well, meaning that one brew can pull double duty as both seasoning for a meal and as a delicious drink.
Thank you so much for the review! Using it for ochazuke is a great idea that I can't wait to try myself!
Refreshing
Such a great taste of the Sakura. I was amazed by the flavor you got when pouring back a little bit of the batch of water after the final brew. Follow the instructions on the website.
Thanks, Jon! Glad you liked the Sakura tea!